Aim: 'To develop a life long love of music in our young people'
Sowerby Music has been organising monthly professional concerts in St Oswald's Church for 30 years.
21 years ago we realised that small rural schools in North Yorkshire have little access to professional music making and seldom have trained music teachers. Thus Music for Life was born. An attempt to share our enjoyment of music with the next generations.
Music for Life has now grown and developed into the biggest and most diverse programme for young people organised and funded by any music society in the country.
All credit for this success lies with the many committed and dedicated volunteer members of Sowerby Music.
More information
(1.1MB pdf leaflet).
2020 Annual Report
(0.3MB pdf leaflet).
St Peters C of E School, Bafferton
We had a fantastic afternoon on Wednesday 8th January with the musicians from Sowerby Music who led a wonderful music workshop for Class 2 and 3 based on the music of Hungarian 20th century composer Bela Bartok.  Here we are creating music by working together using body percussion.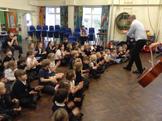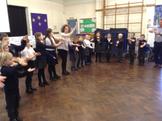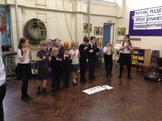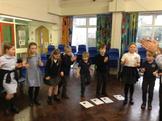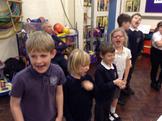 More schools pictures HERE
About Sowerby Music
Sowerby Music generates the largest outreach music programme for schools in the country organised by a music society. During 2019 approximately 3,300 children from the Hambleton District of North Yorkshire have been enthused by 9 groups of professional musicians performing concerts and running workshops in 29 schools.
For more information contact Vicki Farby.
'Thank you. I learnt more about music.'
'Thank you for the best day ever!'
'Thank you very much for coming to our school, we had a great time.'

Jim Stretton, 'The World of Brass', at Romanby Primary School
Dishforth school
We have had a wonderful day with the musicians Ruth Rosales and Ben Hudson who are both bassoonists. This morning began with a whole school concert followed by two workshops for each Key Stage 2 class. This afternoon, the children put together what they had learned and the day ended with a school performance led by the children.